Custom Butcher
Whole or Half of Cow
Custom Butcher
Whole or Half of Cow
Appointments Now Available:
Simply pay a deposit. Afterwards, Laura will contact you and schedule a date when your cow will be delivered to our expert butcher.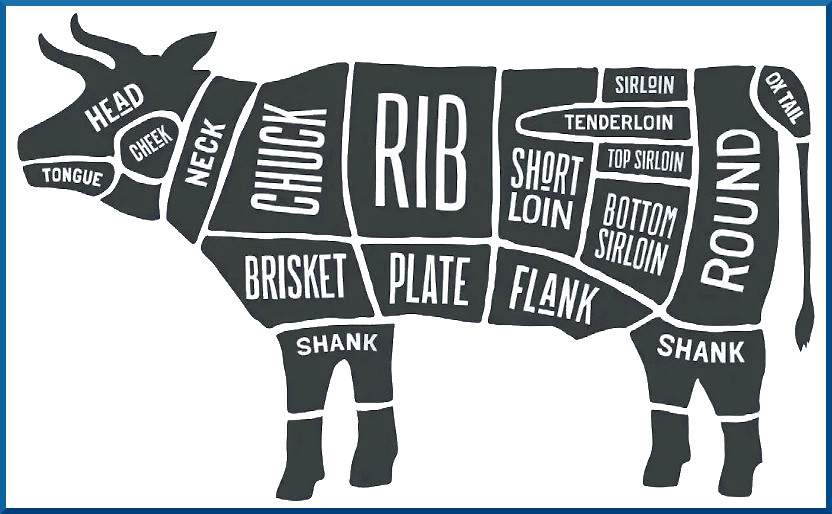 STEP 1

You order one (Whole or Half) of our live young steers or heifers.

STEP 2

We deliver yours to the butcher.

STEP 3

You pay us $2,850 for a Whole or $1,675 for Half. Deposit: $1,000 for Whole or $600 for Half.

STEP 4

You tell the butcher how you want your meat packaged, such as thickness of steaks, number per package, pounds per package, and size of roasts.

STEP 5

You pick up your meat from the butcher when it is ready and pay for the processing fee, typically $800-1,000 for Whole or $400-550 for Half.

ENJOY

For a Whole cow, you will have about 350-450 pounds of meat (typically 20-25 Rib eye steaks, 20-25 NY strip or T-bone steaks, 12-14 Sirloin steaks, 10-14 Chuck roasts, 2-4 Rump roasts, 8-12 Fajita packages, 2 Briskets, other various cuts as requested, and ground beef). This is about $9-10 per pound.
For a Half cow, you will have about 175-225 pounds. This is about $10-11 per pound.
Thank you so much for the wonderful beef! My husband and I purchased a whole cow from you recently and we split it with our family members. The butcher did an excellent job in preparing all cuts and labeling/packaging everything for easy identification. It gives us so much peace of mind knowing we are feeding ourselves and our loved ones quality beef that comes from a locally-owned Texas ranch.
Susannah F., Austin, TX
Thank you SO much!! The package (Eighth of a Cow) is BEAUTIFUL!! It was nice meeting you, and your son! We look forward to doing business in the future!!
Linda M., Sunrise Beach, TX
The meat is the best I have eaten, so tender, good flavor, and love that it's healthy grass-fed beef. The icing on this is that you can't meet two more wonderful people to deal with and trust. Thank you, Laura and StevieRay.
Sandy B., Fredericksburg, TX
Finally got to eat some of the beef and OMG it was wonderful ... next time I would like to buy whole one. Thank you!
Naomi R., Marble Falls
I have been buying beef regularly from Laura at Brangus Best Cattle at the Saturday Farmers Market in Georgetown. I have gotten roasts, steaks, and shanks and they have all been great. I especially appreciate the hints that Laura has given me on preparing this young tender meat. I can hardly wait for my special order that will be cut to my specifications so that I can enjoy even more of this wonderful beef.
Len F., Georgetown, TX
I bought from you last week at the farmers market, and your ground beef was outrageous!
Alison, Driftwood, TX
I have tried countless ranch meats. This is by far the best tasting. We just wanted to thank you.
Gayla B., Bastrop, TX
BTW, last year's cow was fantastic! Ordering another one now.
Becky R., Marble Falls, TX
I made burgers on my cast iron and they were AMAZING! I can't wait to try other cuts.
Leslie F., Driftwood, TX
Lately, I've been searching to for that perfect steak I remembered eating as child... perfectly seasoned and grilled over charcoal by my dad. That's when I first learned to love beef. I wondered whether my memories or my tastebuds had grown too old. Then I discovered Brangus Best. The love you devote to raising your beef made me shed a tear at first bite. My freezer is now full. God bless Brangus Best!
James S. San Antonio, TX